Eventually, Stanley wins Bo over, and soon the pair are flying to Philadelphia, Bo's mind blown by the freebies that come with first-class travel. "You want a bread roll, they are free, and they are warm," says Bo, whose wide-eyed innocence has you cheering for him from the get-go.
Loading
Next, we need to believe that there is genuine love between the athlete and their mentor. Picture Mickey Goldmill (Burgess Meredith) and Rocky (Sylvester Stallone) in the Rocky franchise. Hustle strikes gold with Sandler and Hernangómez, the Spanish basketballer's softly spoken delivery the ideal foil for Sandler's nervy comedic energy.
For much of the film's first half, Stanley desperately tries to nickname Bo "the Cruz missile" but fails to make it stick. "Please do not call me that," deadpans Bo before cracking into a smile.
With Bo and Stanley established as a loveable but unlikely duo, we now require a villain to challenge our hero and raise the stakes. Remember: there is no Karate Kid without Johnny Lawrence (William Zabka) constantly antagonising Daniel LaRusso (Ralph Macchio.)
Enter Anthony Edwards as Kermit Wilts, the likely number two draft pick who doesn't take kindly to a Spanish street kid stealing his limelight. Like Hernangómez, Edwards is an NBA player who currently plies his trade for the Minnesota Timberwolves.
Herein lies the next all-important ingredient if you're looking to make the perfect sports film: famous cameos. While Hustle has clearly found an audience outside of NBA fans, for those who love the sport, there is plenty of satisfying star-spotting.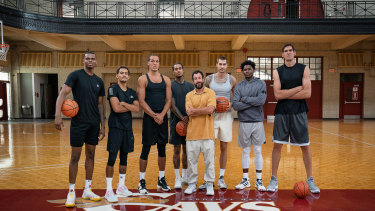 With LeBron James on board as executive producer, Hustle rounded up an impressive collection of current and former NBA players, including Trae Young, Seth Curry, Luka Doncic, Charles Barkley, Shaquille O'Neal and the legendary Julius 'Dr J' Erving.
But to enter the pantheon of genuinely great sporting films, there must be a training montage that forces the viewer to lean in and whisper, "Yes."
Hustle goes hard on the montage scene, letting it stretch a full nine minutes as Bo hits the gym, works out on the court and tries to conquer running up a heartbreaking steep hill in less than two minutes.
The hill is Hustle's version of Rocky ascending the steps of the Philadelphia Museum of Art, and there's even a nod to Stallone's iconic "Yo, Adrian, we did it" line when Bo finally clocks in at one-minute forty-five. "Yo, Stanley we did it," screams Bo. Cue tears.
Finally, every good sports film needs the inspirational speech delivered by the coach or mentor to the athlete at a time when it all appears to be falling apart. Undoubtedly, the benchmark for this type of scene was set by Al Pacino's "inch by inch" speech in Any Given Sunday, but Hustle delivers something pretty special.
"Do you love this game? I mean, love it with your whole heart?" Stanley asks a dejected Bo. "Because if you don't, let's not even bother."
Loading
Managing to be uplifting without being clichéd, sincere but not saccharine, it might just be the scene that delivers Sandler the Oscar he probably should've won for Uncut Gems.
Ultimately though, what takes Hustle from good to great is that we're not just rooting for Bo to make it in the NBA, we're rooting for Stanley to get what he deserves. Both men are waiting on their chance to move up in the world and have taken a gamble on the other in the faith that it'll pay off.
It's enough to convince you that (another sports cliché incoming) at the end of the day, you really do win or lose as a team.
Find out the next TV, streaming series and movies to add to your must-sees. Get The Watchlist delivered every Thursday.