Lequan Wang had been there before. Only this time he was determined to finish on top.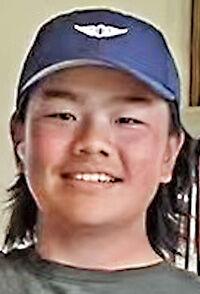 The Aragon sophomore indeed rose to the top of the field of the Peninsula Athletic League golf championships Tuesday at Half Moon Bay Golf Links, claiming the title with a 2-over 74 on the second day of the tournament. His two-day score of 151 gave him plenty of breathing room to top Hillsdale freshman Ale Formosa (second place, 154) and Burlingame freshman Ian Lai (third place, 156).
With Formosa coming on late, Wang was dueling with Lai most of the day. It was on 16 where the match was decided, as Wang made par while Lai took a double bogey. On 17, Wang delivered a veritable clincher, sinking a 50-foot birdie putt.
"I was hyped," Wang said. "It was pretty much the game-winner because you have all the momentum heading to 18 up by 2. It's pretty hard to lose that."
Last season, Wang took second place at the PAL championships, falling 1 stroke shy of Burlingame's Wyatt McGovern, who took the 2021 title.
"This year it feels really great to be on the opposite end of that story," Wang said. "I was down the entire time, but I was actually able to pull it off."
Wang entered the second day trailing Lai by 2 strokes, finishing Monday's opening round with a 5-over 77. He trailed by as many as 4 strokes early Tuesday.
"[Wang] stepped it up with overall play," Aragon head coach Guy Oling said. "In the first round he had a couple lip out, which dropped his score obviously. But to fight back from a couple strokes deficit to come back strong was great."
By virtue of Aragon's regular-season PAL Bay Division team championship, Wang had already qualified for the Central Coast Section golf championships beginning May 10 at Laguna Seca Golf Ranch in Monterey. Lai also earned a CCS bid with Burlingame taking second place in league.
Five golfers on teams that didn't earn CCS bids earned individual berths to play at Laguna Seca — Formosa, San Mateo juniors Parker Politte and Oscar Morganstern, Woodside senior Dylan Mack and Carlmont freshman Alister Jackson.
It was a rare feat for the top three PAL finishers all to be underclassman, Oling said.
"It's one of those things, this is going to be a rivalry for a couple years now," Oling said.
Politte took fourth place with a 157; Aragon junior Sam Higaki took fifth with a 158; Jackson took sixth with a 161; Aragon senior Isaiah Lott took seventh with 164; Burlingame freshman Zach Newman took eighth with a 165; Mack took ninth with a 169; and Burlingame senior Will Mendel took 10th with a 170.