The chip on the shoulder of Jake LaRavia has been his guiding light. It's taken him to destinations few saw for the Indianapolis native but LaRavia himself. It has helped him achieve at a level even the insiders in the game never dreamed of.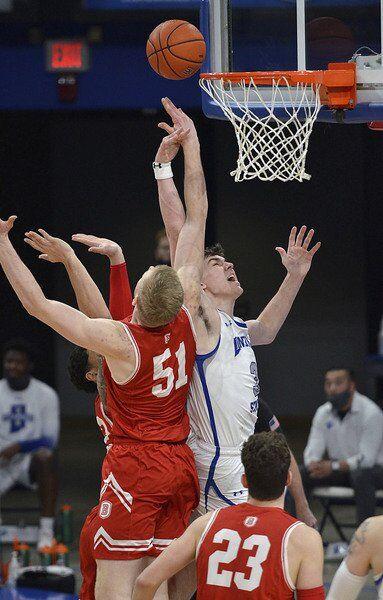 The final destination that chip on LaRavia's shoulder may take him to could very well be the pinnacle of basketball.
LaRavia, who played at Indiana State from 2019-21 before he transferred to Wake Forest for the 2022 season, is one of the hottest prospects in the 2022 NBA Draft class.
Going into draft season, the prospects were already exciting. LaRavia was perceived as a possible second-round draft pick. But since draft camps and evaluations began in earnest in April, NBA draftniks have raved about LaRavia and he is moving up the draft board with a bullet.
On Monday, The Athletic projected LaRavia as the 21st pick in the draft, easily into the first round, where he would be chosen by a NBA playoff team or another with an acquired NBA playoff team draft pick. LaRavia is projected to be well ahead of other luminaries with Hoosier State ties in the draft like Indiana's Trayce Jackson-Davis and Purdue's Trevion Williams.
No player with Indiana State connections has been drafted since Carl Nicks was taken in the first round and Alex Gilbert in the sixth round in 1980. No player with ISU connections has played in the NBA since Larry Bird retired in 1992.
Even though LaRavia swapped his ISU blue-and-white for Wake Forest black-and-gold in March 2021, to have any player with ISU connections to have a legitimate NBA first-round draft pick chance is special. The Tribune-Star spoke with LaRavia on Monday. He is excited about his rise in status, but he's also trying to keep it in perspective.
"At this point, I feel like I'm just trying to keep myself grounded. It's an exciting process and something I've dreamed of since I was a little kid," LaRavia said. "By main priority is staying focused and getting through the combine and all of these workouts so I can to the decision date on June 1 to go back to school or stay in the draft. I'm locked in on these workouts and to do everything I need to do."
The will to succeed
LaRavia's skill set is well-known to ISU fans and it's one that fits the modern NBA. At 6-foot-9, LaRavia sees the court well and is an excellent passer for a bigger player. LaRavia can stretch the floor and shoot reliably from the arc. He has good instincts at the rim and will physically battle. His basketball IQ is strong and he's unselfish.
However, the X-factor that LaRavia has always had is his will. A determination born out of being overlooked. From a Lawrence Central player who had guard skills, but who grew late into a power forward body, to a SIU-Edwardsville commit, to an Indiana State steal, to an Atlantic Coast Conference star, to a possible NBA career.
LaRavia has always been confident taking the next step in his progression and the hunger to prove how good he was all along has been his fuel.
"That's where he separates himself," said former ISU coach Greg Lansing, who coached LaRavia during his Sycamore career.
"I've been getting tons of calls from NBA teams, I've probably talked to 12 to 15 teams as of now, I tell them he's extremely competitive, he's always been supremely confident," Lansing continued. "Every time he stepped on the floor at Indiana State, as well as Wake Forest, he felt he was the best player on the floor. His belief in himself and his abilities will propel to being a first round draft choice and have a long NBA career."
LaRavia proved himself in Winston-Salem. At Wake Forest, he was a All-ACC second team as he averaged 14.6 points, 6.6 rebounds and 3.7 assists per game.
He was also twice ACC Player of the Week and he propelled the Demon Deacons from a 6-16 record in 2021 to a 25-10 mark and a NCAA Tournament bid in 2022. It's very similar to the turnaround ISU experienced when LaRavia arrived in Terre Haute. The Sycamores were 15-16 in 2019 and then went 18-12 and 15-10 in LaRavia's pair of seasons.
"As far as the abilities I showed [at Wake Forest], it's everything I've known I've been able to do, but to do it on a higher level. My passing ability and bringing the ball up the court, my frame and my size, the shooting, everything that comes with my game, but on a higher level," said LaRavia in explaining his success with the Demon Deacons.
All part of the confidence that's driven him from the beginning.
"Every since I got out of high school, being under-recruited and starting my journey at Indiana State, it left that chip on my shoulder. Sometimes that's good and in my case it's good. I like being the underdog and coming in from the bottom and proving myself at every stage," LaRavia said.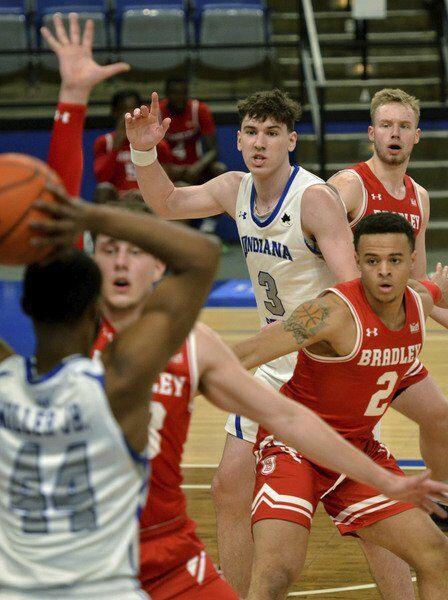 Rise in draft status
Why has LaRavia's stock risen? The Athletic's Sam Vecenie gave his own scouting report in the online publication's NBA Draft evaluation story on Monday.
"He's an exceptional passer for someone this size and reads the game so well. He's reliable and smart, making intelligent plays at his own expense that help the team. He keeps the ball moving around the horn in a way star players will love playing with. I believe he can be not just a good shooter, but a genuine plus as a confident, knockdown guy at some point. And he brings all of that at 6-foot-8 with a frame that has some upside to add athleticism as he gets into better condition from playing under NBA strength and conditioning programs. He just has just a lot of skills tailor-made for winning games," Vecenie's story said.
LaRavia feels his stock has risen because he's been consistent and has worked on honing physical attributes that were already there, but needed to be perfected.
"I feel like I've got everything more fluid. When they come to watch everything has been smooth. I've been working on my ball-handling and getting a smoother shot and on my footwork and post moves. Everything I've been working on for a long time, but perfecting it. I want to be able to showcase it when people come to watch," LaRavia said.
Lansing, who harbors hopes of going into the NBA himself in the near future, said part of the key of LaRavia's success is also his physical core.
"One thing he's always had is his lower half has always been strong. He grew so much between his junior and senior year of high school, that led to his back problems he had with us [during LaRavia's freshman season], but he's much stronger than he looks," Lansing said. "He's long and lean, but it comes from that lower half. Playing in the ACC for a year, he's more used to the length and size, but the Missouri Valley is as physical as it is. He's fine with that and he's so tough and aggressive."
LaRavia still has a ways to go in the process. A parade of workouts with individual teams and the draft combine are just a few of the instances in which LaRavia will be put under the microscope.
What does he feel he needs to do to prove to scouts and NBA front office personnel that he's worth drafting?
"I want to be able to shoot consistently, show how I can handle the ball at my height and size, and get my body right as far as conditioning goes. The NBA is whole different level in terms of games played and the strength and physicality. I want to show I can consistently do it," LaRavia said.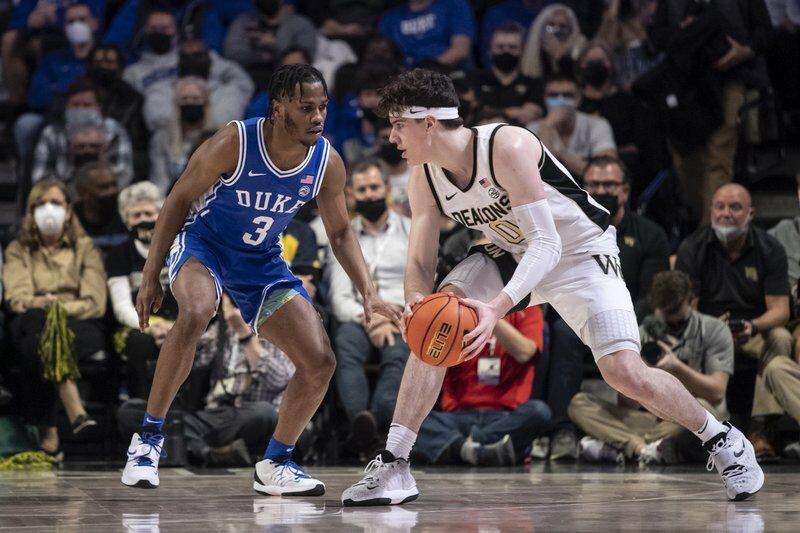 ISU's role in LaRavia's journey
It would be evading the truth to say that LaRavia's season at Wake Forest wasn't vitally important in his gaining the notice of NBA's cognoscenti. Playing at a high level in an elite conference was vital in answering questions about his skill set and how it translated to the NBA.
However, LaRavia noted that Indiana State is an important part of his journey as well. Playing in the Missouri Valley Conference prepared him for the ACC in ways some might not realize, especially in terms of the physical play in the league.
National media types and even fans at MVC schools may not realize how good the talent is in the league — a reality that is being proven in a sort of back-handed compliment type of way as MVC players have been popular targets for Power Five schools in the transfer portal.
"At the end of the day, basketball is basketball. In the Missouri Valley? Loyola and Drake could compete with high-level teams. It's not like I was taking a crazy jump. The MVC has talent every year. Being able to produce at Indiana State and then going up another level? It's all confidence and believing in yourself and knowing what I can do on the court," LaRavia said.
LaRavia also noted that he would not be where he is now if ISU had not taken a flier on him when he was barely noticed at Lawrence Central. Even when he re-opened his recruitment after his initial verbal commitment to SIU-Edwardsville in 2019, there was interest, but not many takers. ISU was the exception.
"Indiana State is the school that took a chance on me. Coach Lansing took a chance on me and brought me there. I came in as a 200-pound freshman. I worked with Coach Ken [Galletta, head coach for sports and performance] and he got me to 230. I went through a couple of injuries and Connor Burton [ISU athletic trainer] helped me through those. Indiana State played a huge role as far as development goes and I'm very thankful for it," LaRavia recalled.
Lansing, who said he watched nearly all of LaRavia's game and he also attended LaRavia's game at Duke, takes a lot of pride in LaRavia's draft surge too.
"I'm real proud of him. This is something that's been his goal all along. The work ethic he's grown up with has led him to this. He's continued to amp that up and take it to new levels. He's going to have to to be a NBA player. There's no doubt in my mind he's a first-round NBA draft pick," Lansing said.
For ISU fans, it's an odd spot. If LaRavia's name is called during the NBA Draft on June 23, the college name called with LaRavia's will be Wake Forest, but he took his first big leaps in an ISU uniform. How should ISU fans process LaRavia's success, even as they share it with Wake Forest fans?
LaRavia did his part to set ISU minds at ease. LaRavia welcomes the notion that ISU fans should feel some sense of ownership and pride as he plays out his basketball dreams.
"One-hundred percent, people there should have pride in it. I spent two years there. I made a connection with the fans. It was part of my experience and part of my journey. I feel like anyone should say, 'that kid who went to Indiana State' is in the draft," LaRavia said.