THE FLATS – Stewart Cink and Cameron Tringale representing Georgia Tech at the U.S. Open this week at Brookline … Paul Haley II and Anders Albertson post top-10 finishes on the Korn Ferry Tour … More details below in this week's Georgia Tech #ProJackets Report.
*****
CINK, TRINGALE SET FOR U.S. OPEN
Georgia Tech has two representatives in the U.S. Open this week – Stewart Cink, who is exempt after qualifying for the 2021 Tour Championship, and Cameron Tringale, who is in as one of the top 60 players in the official World Golf Ranking. The third major championship of 2022 begins Thursday at The Country Club at Brookline near Boston, Mass.
Cink (read his U.S. Open history here), whose best finish in the U.S. Open was third place in 2001, will make his 22nd start after tying for 57th place last June at Torrey Pines in San Diego. Tringale (U.S. Open history) is competing for the third time after tying for 54th in 2015 at Chambers Bay and missing the cut in 2009 at Bethpage Black.
Neither played last weekend in preparation for this week. Vincent Whaley tied for 35th at the RBC Canadian Open (277, -3) and moved up to 114th in FedEx Cup points, while Seth Reeves missed the cut.
PGA Tour Leaderboard
*****
HALEY EARNS THIRD TOP-10 KORN FERRY FINISH
Anders Albertson and Paul Haley II both posted top-10 finishes last weekend at the BMW Charity Pro-Am and continued to solidify their chances to earn PGA Tour cards with seven regular-season events remaining on the Korn Ferry Tour schedule.
Haley tied for seventh place, his fourth top-10 finish of the season, with an 18-under-par score of 267, six shots off the lead, anchored by a 63 in Saturday's third round. The 2011 ACC Champion moved up to No. 13 on the points list for the tour. Albertson, who won the Visit Knoxville Open two weeks ago to position himself for a top-25 points finish, tied for 10th place with a 17-under-par 268, and sits No. 11 on the points list.
Chris Petefish and J.T. Griffin, each of whom have conditional status on the Korn Ferry Tour, missed the cut. Petefish sits No. 73 on the points list and had a third-place finish three weeks ago at the NV5 Invitational.
Korn Ferry Tour leaderboard
*****
DUVAL, MIZE CARRY ON WITH PGA TOUR CHAMPIONS
David Duval, in his rookie season on the PGA Tour Champions, posted a tie for 54th place (214, -2) last weekend at the American Family Insurance Championship in Madison, Wis., while Larry Mize tied for 42nd (213, -3). Duval sits 76th in the Charles Schwab Cup points list, while Mize is 93rd.
PGA Tour Champions leaderboard
*****
PGA TOUR CANADA, GPRO TOUR RESUME THIS WEEK
Luke Schniederjans is back in action this week with the resumption of the PGA Tour Canada schedule at the ATB Classic in Edmonton, Alberta. J.T. Griffin, not in the Korn Ferry Tour field this week, also is playing in the ATB event.
First-year pros Will Dickson and Noah Norton resume competition on the GPro Tour this week at the High Point Open. Dickson, who has a win under his belt this season, posted another strong finish on the GPro Tour two weeks ago, tying for sixth place at the Kannapolis Open in North Carolina, going 14-under-par 199 at the Club at Irish Creek. Norton made his 2022 debut on the developmental circuit at Kannapolis, tying for 14th place with a 10-under-par total of 203.
PGA Tour Canada leaderboard
GPro Tour Leaderboard
*****
OGLETREE PLAYS IN FIRST LIV GOLF EVENT
Former Georgia Tech star Andy Ogletree played in the first LIV Invitational Series event conducted last weekend in London, finishing last but also picking up a $120,000 check.
Ogletree, the 2019 U.S. Amateur champion who became the low amateur at the 2020 Masters before turning pro, also was one of 17 players suspended by the PGA Tour as a consequence for participating in the LIV event. Ogletree has played in two PGA Tour events in 2021-22 on sponsor exemptions He has played in six PGA Tour events since turning pro and 11 overall, making three cuts.
More from the Atlanta Journal-Constitution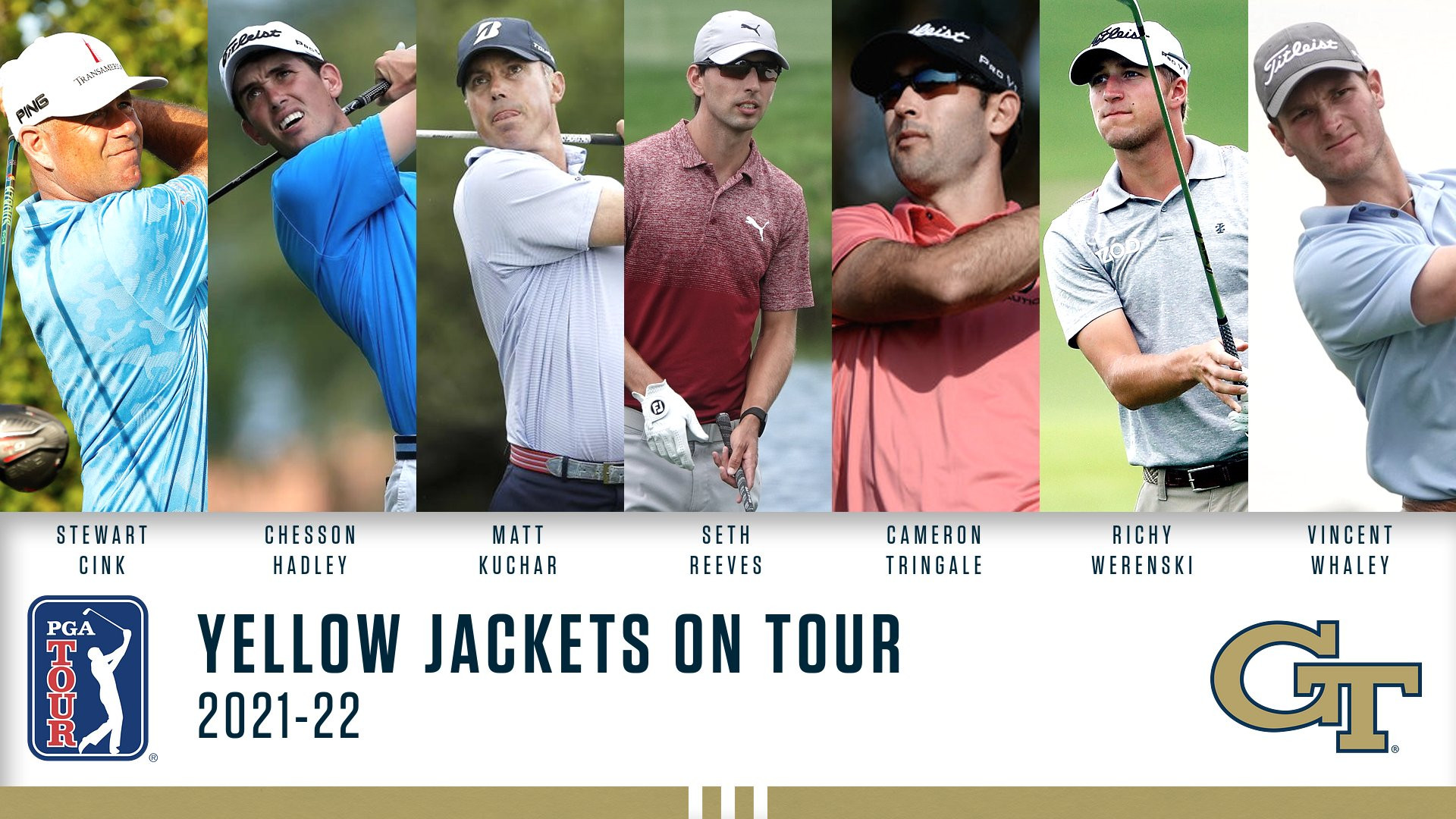 UPCOMING EVENTS
USGA/PGA Tour:  U.S. Open • June 16-19, 2022 • The Country Club at Brookline • Brookline, Mass. • Purse: n/a • FedEx Cup points: 600
Korn Ferry Tour:  Wichita Open • June 16-19, 2022 • Crestview Country Club • Wichita, Kan. • Purse: $750,000
PGA Tour Champions:  U.S. Senior Open Championship • June 23-26, 2022 • Saucon Valley Country Club • Bethlehem, Pa. • Purse: n/a
PGA Tour Canada:  ATB Classic • June 16-19, 2022 • Edmonton Petroleum Golf & Country Club • Edmonton, Alberta • Purse: $225,000
All Pro Tour:  Southwest Kansas Pro-Am • June 15-18, 2022 • Buffalo Dunes Golf Club • Garden City, Kan. • Purse: $130,000
G Pro Tour:  High Point Open • June 14-16, 2022 • High Point Golf Club • High Point, N.C.
#PROJACKETS ON SOCIAL MEDIA
It's been a tough year on the health front. I played golf once in January and once in early March. Now cleared to play. Just fitted for some brand new @pxg gear. I think those clubs gonna pair up beautifully with my @Saintnine_US balls. Feels like #butta

— Charlie Rymer (@CharlieRymerPGA) June 8, 2022
Course Record Show Tuesday Tap-In:
This weekend I plan to…? #CRS #GolfBiz @golfidant #TuesdayTapIns

— Roberto Castro (@cicioCASTRO) June 7, 2022
Here's a story about money in golf. Today golfers donated their time and money so that young people can learn life and leadership lessons through golf. $325,000 raised. Respect. pic.twitter.com/FXzBUlITrA

— Roberto Castro (@cicioCASTRO) June 13, 2022
PLAYER
PLAYER
LAST WEEK
DATA
ANDERS ALBERTSON
Hometown: Woodstock, Ga.
Turned pro: 2015
Years at Georgia Tech: 2011-15
Status: Korn Ferry Tour
Korn Ferry Tour
BMW Charity Open
T-10
66-65-67-70–268 (-17)
KFT points ranking: 11
YTD earnings: $214,343
Career earnings (KFT): $903,581
ROBERTO CASTRO
Hometown: Alpharetta, Ga.
Turned pro: 2007
Years at Georgia Tech: 2003-07
Status: PGA Tour
Did not play
Points ranking: n/a
YTD earnings: $0
Career earnings: $7,463,260
STEWART CINK
Hometown: Florence, Ala.
Residence: Duluth, Ga.
Turned pro: 1995
Years at Georgia Tech: 1991-95
Status: PGA Tour
Did not play
FedEx Cup points ranking: 126
YTD earnings: $796,796
Career earnings: $42,554,255
JAMES CLARK
Hometown: Columbus, Ga.
Turned pro: 2019
Years at Georgia Tech: 2014-19
Status: developmental tours
Did not play
Points ranking (FET): T-157
YTD earnings (FET): $355
DREW CZUCHRY
Hometown: Auburn, Ga.
Turned pro: 2015
Years at Georgia Tech: 2010-14
Status: developmental tours
Did not play
Points ranking: n/a
YTD earnings: n/a
WILL DICKSON
Hometown: Providence, R.I.
Residence: Atlanta, Ga.
Turned pro: 2021
Years at Georgia Tech: 2017-21
Status: Developmental tours
Did not play
KFT points ranking: 165
KFT YTD earnings: $4,538
Points ranking (GPro): 7
YTD Earnings (GPro): $18,570
Points ranking (FET): 154
YTD earnings (FET): $2,571
DAVID DUVAL
Hometown: Ponte Vedra Beach, Fla.
Residence: Denver, Colo.
Turned pro: 1993
Years at Georgia Tech: 1989-93
Status: PGA Tour Champions
PGA Tour Champions
American Family Insurance Championship
T-54
71-73-70–214 (-2)
Champions Tour Points ranking: 76
YTD earnings: $50,276
Career earnings (Champions): $50,276
Career earnings (PGA Tour): $18,983,931
J.T. GRIFFIN
Hometown: Wilson, N.C.
Residence: Marietta, Ga.
Turned pro: 2011
Years at Georgia Tech: 2007-11
Status: Korn Ferry Tour
Korn Ferry Tour
BMW Charity Open
missed cut
75-73–148 (+5)
KFT points ranking: n/a
YTD earnings: $0
Career earnings (KFT): $187,056
CHESSON HADLEY
Hometown: Raleigh, N.C.
Turned pro: 2010
Years at Georgia Tech: 2006-10
Status: PGA Tour
Did not play
FedEx Cup points ranking: 206
YTD earnings: $158,616
Career earnings: $9,814,336
SHUN YAT HAK
Hometown: Hong Kong
Turned pro: 2013
Years at Georgia Tech: 2012-13
Status: PGA Tour China
Did not play
Order of Merit: n/a
YTD earnings: n/a
Career earnings: ¥251,305
PAUL HALEY II
Hometown: Dallas, Texas
Turned pro: 2011
Years at Georgia Tech: 2007-11
Status: Korn Ferry Tour
Korn Ferry Tour
BMW Charity Open
T-7
65-70-63-69–267 (-18)
KFT points ranking: 13
YTD earnings: $181,127
Career earnings (KFT): $826,475
MATT KUCHAR
Hometown:
Lake Mary, Fla.
Residence: Sea Island, Ga.
Turned pro: 2000
Years at Georgia Tech: 1997-2000
Status: PGA Tour
Did not play
FedEx Cup points ranking: 43
YTD earnings: $1,955,400
Career earnings (PGAT): $54,822,469
TROY MATTESON
Hometown: Austin, Texas
Turned pro: 2003
Years at Georgia Tech: 2000-03
Status: none
Did not play
Points ranking: n/a
YTD earnings: n/a
Career earnings (PGA Tour: $9,392,206
LARRY MIZE
Residence: Columbus, Ga.
Turned pro: 1980
Years at Georgia Tech: 1975-79
Status: PGA Tour Champions
PGA Tour Champions
American Family Insurance Championship
T-42
71-70-72–213 (-3)
Champions Tour points ranking: 93
YTD earnings: $30,440
Career earnings (Champions): $5,143,536
Career earnings (PGAT): $7,947,092
NOAH NORTON
Hometown: Chico, Calif.
Residence: Atlanta, Ga.
Turned pro: 2021
Years at Georgia Tech: 2017-21
Status: Developmental tours
Did not play
Points ranking (GPro): 165
YTD earnings (GPro): $1,730
ANDY OGLETREE
Hometown: Little Rock, Miss.
Residence: Roswell, Ga.
Turned pro: 2020
Years at Georgia Tech: 2016-20
Status: none
LIV Invitational Series
London
48th
82-77-75–234 (+24)
Points ranking (GPro): T-6
YTD earnings (GPro): $15,000
CHRIS PETEFISH
Hometown: Danville, Calif.
Turned pro: 2018
Years at Georgia Tech: 2014-18
Status: MacKenzie Tour/Forme Tour
Korn Ferry Tour
BMW Charity Open
missed cut
72-68–140 (-3)
KFT points ranking: 73
YTD earnings: $53,140
Career earnings: $58,342
Points ranking (FET): T-16
YTD earnings (FET): $3,052
Career earnings (PGA Tour Canada): $21,118
MICHAEL PISCIOTTA
Hometown: Alpharetta, Ga.
Turned pro: 2018
Years at Georgia Tech: 2014-18
Status: Developmental tours
Did not play
Points ranking: n/a
YTD earnings: n/a
SETH REEVES
Hometown: Duluth, Ga.
Turned pro: 2014
Years at Georgia Tech: 2010-14
Status: PGA Tour
PGA Tour
RBC Canadian Open
missed cut
72-70–142 (+2)
FedEx Cup points ranking: 182
YTD earnings: $284,438
Career earnings (PGAT): $594,026
Career earnings (KFT): $590,838
LUKE SCHNIEDERJANS
Hometown: Powder Springs, Ga.
Residence: Alpharetta, Ga.
Turned pro: 2020
Years at Georgia Tech: 2016-20
Status: MacKenzie Tour/Forme Tour
Did not play
Points ranking (Canada): 31
YTD earnings (Canada): $1,160
Points ranking (GPro): 51
YTD earnings (GPro): $3,567
Points ranking (FET): T-81
YTD earnings (FET): $1,580
OLLIE SCHNIEDERJANS
Hometown: Powder Springs, Ga.
Turned pro: 2015
Years at Georgia Tech: 2011-15
Status: Korn Ferry Tour
Did not play
KFT Points ranking: 191
YTD earnings: $3,060
Career earnings (KFT): $530,524
Career earnings (PGAT): $3,879,653
TYLER STRAFACI
Hometown: Davie, Fla.
Residence: Davie, Fla.
Turned pro: 2020
Years at Georgia Tech: 2016-20
Status: none
Did not play
Points ranking (Canada): 55
YTD earnings (Canada): $584
YTD earnings (GPro): $1.504
Career earnings (PGA Tour): $21,111
Career earnings (KFT): n/a
NICHOLAS THOMPSON
Hometown: Coral Springs, Fla.
Turned pro: 2005
Years at Georgia Tech: 2001-05
Status: Korn Ferry Tour
Did not play
KFT points ranking: n/a
YTD earnings: $0
Career earnings (KFT): $919,414
Career earnings (PGAT): $5,729,551
CAMERON TRINGALE
Hometown: Laguna Niguel, Calif.
Turned pro: 2009
Years at Georgia Tech: 2005-09
Status: PGA Tour
Did not play
FedEx Cup points ranking: 32
YTD earnings: $2,481,144
Career earnings (PGAT): $16,740,629
RICHY WERENSKI
Hometown: South Hadley, Mass.
Turned pro: 2014
Years at Georgia Tech: 2011-14
Status: PGA Tour
Did not play
FedEx Cup points ranking: 191
YTD earnings: $169,239
Career earnings (PGAT): $5,895,740
VINCENT WHALEY
Hometown: McKinney, Texas
Residence: Fayetteville, Ga.
Turned pro: 2017
Years at Georgia Tech: 2013-17
Status: PGA Tour
PGA Tour
RBC Canadian Open
T-35
72-69-67-69–277 (-3)
FedEx Cup points ranking: 117
YTD earnings: $716,873
Career earnings (PGAT): $1,616,736
Career earnings (KFT): $167,469