THE FLATS – Cameron Tringale inches up the FedEx Cup ladder with solid weekend in Mexico … David Duval coming to Atlanta this week … Paul Haley II earns a top-10 finish on Korn Ferry Tour … More details below in this week's Georgia Tech #ProJackets Report.
*****
TRINGALE REMAINS AMONG TOP 30
Cameron Tringale remains Tech's highest ranked alumnus on the Tour's FedEx Cup points list at No. 24, improving three spots on the list last weekend with his tie for 33rd at the Mexico Open. Tringale fired rounds 70-68-70-69 for a 7-under-par total of 277. He has finished T12, T10 and T30 the last three weeks.
For the second straight week, he was the only former Yellow Jacket to make the cut, as Seth Reeves, Richy Werenski and Vincent Whaley all came up short.
Stewart Cink, Chesson Hadley and Matt Kuchar all return to action this week for the Wells Fargo Championship, which is being held in Potomac, Md., while its normal venue, Quail Hollow Golf Club in Charlotte, N.C., is preparing to host the Presidents Cup in the fall. Reeves, Werenski and Whaley also are in the field while Tringale takes the week off.
Nicholas Thompson, whose last PGA Tour start was the 2017 Sanderson Farms Championship, earned a spot through Monday qualifying in Glenwood, Md. Thompson, who also advanced through local U.S. Open qualifying lastweek, has played on the Korn Ferry Tour the last four years.
PGA Tour Leaderboard
*****
HALEY EARNS SECOND TOP-10 FINISH
Paul Haley II picked up his second top-10 finish of the 2022 Korn Ferry Tour season, tying for ninth place at last weekend's Huntsville Championship. The 2011 ACC champion posted a 7-under-par 273 for his best performance since the season-opening event in the Bahamas, where he tied for second place.
The performance snapped a string of three straight missed cuts, holding his position at No. 18 in Korn Ferry Tour points. The top 25 points leaders at the end of the regular season in August will be awarded 2022-23 PGA Tour cards.
Anders Albertson, who stands No. 47 in points, tied for 53rd in Huntsville, while Chris Petefish, who holds conditional membership on the Korn Ferry Tour, tied for 60th in his second 2022 start.
The tour moves to the Nashville, Tenn., area this week for the Simmons Bank Open, where Albertson and Haley are teeing it up.
Korn Ferry Tour leaderboard
*****
DUVAL, MIZE COME TO ATLANTA AREA
David Duval makes his first trip to the Atlanta area for competition in many years, along with PGA Tour Champions veteran Larry Mize this weekend for the Mitsubishi Electric Classic at TPC Sugarloaf in Duluth, Ga. Duval, a four time All-America at Georgia Tech and a 13-time winner on the PGA Tour, will make his seventh start in his rookie season on the Champions circuit.
Duval tied for 45thh last week at the Insperity Invitational with an even-par score of 216 at The Woodlands (Texas) Golf Club and sits No. 72 in Charles Schwab Cup points. Mize tied for 49th at 217 and is No. 82 in points.
PGA Tour Champions leaderboard
*****
HADLEY LEADING FIRST TEE CLINIC AT AVENEL
Among other activities conducted by Wells Fargo this week, recent Georgia Tech Hall of Fame inductees and veteran PGA Tour pro Chesson Hadley will lead a golf clinic with the local DC Chapter of the First Tee at Langston Golf Course. The course is named for John Mercer Langston, an African American who was the first dean of the Howard University School of Law, the first president of Virginia State University, and the first African American elected to the United States Congress from Virginia.
The clinic is part of a week of activities leading up to the Wells Fargo Championship, where Howard University's Greg Odom, Jr., will compete on a sponsor's exemption.
Read more from HBCU Gameday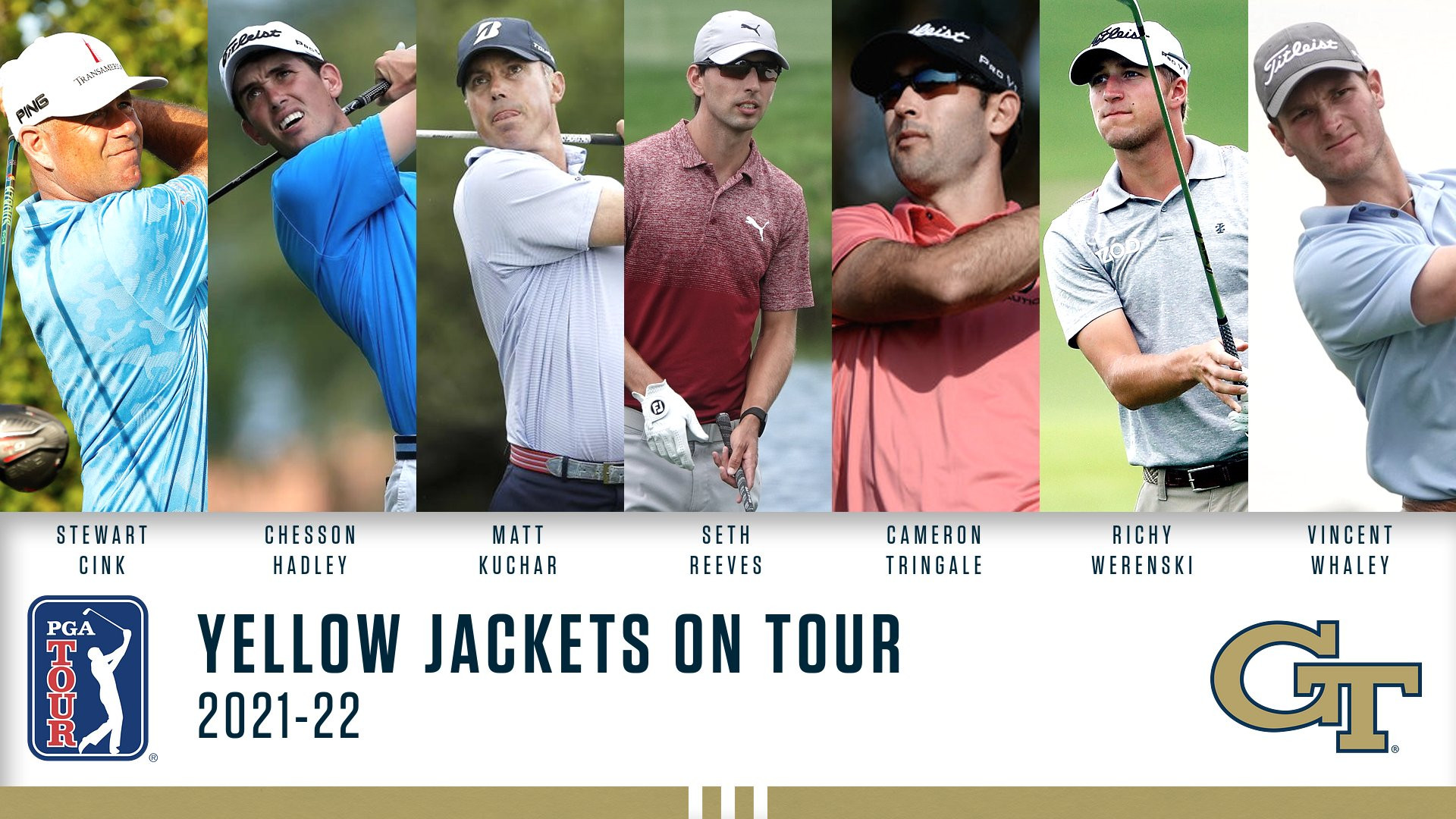 UPCOMING EVENTS
PGA Tour:  Wells Fargo Championship • May 5-8, 2022 • TPC Potomac at Avenel Farm • Potomac, Md. • Purse: $9,000,000 • FedEx Cup points: 500
Korn Ferry Tour:  Simmons Bank Open • May 5-8, 2022 • The Grove • College Grove, Tenn. • Purse: $750,000
PGA Tour Champions:  Mitsubishi Electric Classic • May 6-8, 2022 • TPC Sugarloaf • Duluth, Ga. • Purse: $1,800,000
PGA Tour Canada:  Q-School Canada • April 26-29, 2022 • Crown Isle Resort & Golf Club • Courtenay, B.C. • Purse: tba
All Pro Tour:  Grand Casino Open • May 4-7, 2022 • Shawnee Country Club • Shawnee, Okla. • Purse: $130,000
G Pro Tour:  Nashville Challenge • May 4-5, 2022 • Greystone Golf Club • Dickson, Tenn.
SwingThought Tour:  ST4 Three Ridges Golf Club • May 11-13, 2022 • Three Ridges Golf Club • Knoxville, Tenn.
#PROJACKETS ON SOCIAL MEDIA
4 years, I kept hearing that Stewart Cink is 1 of the nicest people on Tour. Well, after spending 15-20 minutes with him 2day, I agree. A wonderful start to an early day. ⁦@Stewartcink1⁩

As I mentioned b4 departing, 🙏🏽 4 the purpose of your travel! pic.twitter.com/nc4ZZBHiZ4

— 5 Handicap Golf (@5_handicap) April 27, 2022
**NEW EPISODE** We talk to the Mayor of Augusta, GA about the Masters impact, cybersecurity, church & state, and why the Masters is the greatest sporting event in the world. Interesting throughout, enjoy, and please subscribe. @hardiedavis @visitaugustaga https://t.co/OLBI8R44tR

— Roberto Castro (@cicioCASTRO) April 20, 2022
4 years, I kept hearing that Stewart Cink is 1 of the nicest people on Tour. Well, after spending 15-20 minutes with him 2day, I agree. A wonderful start to an early day. ⁦@Stewartcink1⁩

As I mentioned b4 departing, 🙏🏽 4 the purpose of your travel! pic.twitter.com/nc4ZZBHiZ4

— 5 Handicap Golf (@5_handicap) April 27, 2022
**NEW EPISODE** We talk to the Mayor of Augusta, GA about the Masters impact, cybersecurity, church & state, and why the Masters is the greatest sporting event in the world. Interesting throughout, enjoy, and please subscribe. @hardiedavis @visitaugustaga https://t.co/OLBI8R44tR

— Roberto Castro (@cicioCASTRO) April 20, 2022
PLAYER
PLAYER
LAST WEEK
DATA
ANDERS ALBERTSON
Hometown: Woodstock, Ga.
Turned pro: 2015
Years at Georgia Tech: 2011-15
Status: Korn Ferry Tour
Korn Ferry Tour
Huntsville Championship
T-53
69-70-73-69–281 (+1)
KFT points ranking: 47
YTD earnings: $54,563
Career earnings (KFT): $743,801
ROBERTO CASTRO
Hometown: Alpharetta, Ga.
Turned pro: 2007
Years at Georgia Tech: 2003-07
Status: PGA Tour
Did not play
Points ranking: n/a
YTD earnings: $0
Career earnings: $7,463,260
STEWART CINK
Hometown: Florence, Ala.
Residence: Duluth, Ga.
Turned pro: 1995
Years at Georgia Tech: 1991-95
Status: PGA Tour
Did not play
FedEx Cup points ranking: 144
YTD earnings: $448,778
Career earnings: $42,206,237
JAMES CLARK
Hometown: Columbus, Ga.
Turned pro: 2019
Years at Georgia Tech: 2014-19
Status: developmental tours
Did not play
Points ranking (FET): T-157
YTD earnings (FET): $355
DREW CZUCHRY
Hometown: Auburn, Ga.
Turned pro: 2015
Years at Georgia Tech: 2010-14
Status: developmental tours
Did not play
Points ranking: n/a
YTD earnings: n/a
WILL DICKSON
Hometown: Providence, R.I.
Residence: Atlanta, Ga.
Turned pro: 2021
Years at Georgia Tech: 2017-21
Status: Developmental tours
Did not play
KFT points ranking: 142
KTF YTD earnings: $4,538
Points ranking (GPro): 8
YTD Earnings (GPro): $15,640
Points ranking (FET): 54
YTD earnings (FET): $2,571
DAVID DUVAL
Hometown: Ponte Vedra Beach, Fla.
Residence: Denver, Colo.
Turned pro: 1993
Years at Georgia Tech: 1989-93
Status: PGA Tour Champions
PGA Tour Champions
Insperity Invitational
T-45
74-73-69–216 (even)
Champions Tour Points ranking: 72
YTD earnings: $30.728
Career earnings (Champions): $30,728
Career earnings (PGA Tour): $18,893,931
J.T. GRIFFIN
Hometown: Wilson, N.C.
Residence: Marietta, Ga.
Turned pro: 2011
Years at Georgia Tech: 2007-11
Status: Korn Ferry Tour
Did not play
KFT points ranking: n/a
YTD earnings: $0
Career earnings (KFT): $187,056
CHESSON HADLEY
Hometown: Raleigh, N.C.
Turned pro: 2010
Years at Georgia Tech: 2006-10
Status: PGA Tour
PGA Tour
Zurich Classic of New Orleans
missed cut
66-75–141 (-3)
FedEx Cup points ranking: 212
YTD earnings: $158,616
Career earnings: $9,814,336
SHUN YAT HAK
Hometown: Hong Kong
Turned pro: 2013
Years at Georgia Tech: 2012-13
Status: PGA Tour China
Did not play
Order of Merit: n/a
YTD earnings: n/a
Career earnings: ¥251,305
PAUL HALEY II
Hometown: Dallas, Texas
Turned pro: 2011
Years at Georgia Tech: 2007-11
Status: Korn Ferry Tour
Korn Ferry Tour
Huntsville Championship
T-9
71-67-65-70–273 (-7)
KFT points ranking: 18
YTD earnings: $103,819
Career earnings (KFT): $749,167
MATT KUCHAR
Hometown:
Lake Mary, Fla.
Residence: Sea Island, Ga.
Turned pro: 2000
Years at Georgia Tech: 1997-2000
Status: PGA Tour
Did not play
FedEx Cup points ranking: 36
YTD earnings: $1,639,128
Career earnings (PGAT): $54,506,297
TROY MATTESON
Hometown: Austin, Texas
Turned pro: 2003
Years at Georgia Tech: 2000-03
Status: none
Did not play
Points ranking: n/a
YTD earnings: n/a
Career earnings (PGA Tour: $9,392,206
LARRY MIZE
Residence: Columbus, Ga.
Turned pro: 1980
Years at Georgia Tech: 1975-79
Status: PGA Tour Champions
PGA Tour Champions
Insperity Invitational
T-49
76-71-70–217 (+1)
Champions Tour points ranking: 82
YTD earnings: $18,728
Career earnings (Champions): $5,125,346
Career earnings (PGAT): $7,947,092
NOAH NORTON
Hometown: Chico, Calif.
Residence: Atlanta, Ga.
Turned pro: 2021
Years at Georgia Tech: 2017-21
Status: Developmental tours
Did not play
Points ranking: n/a
YTD earnings: n/a
ANDY OGLETREE
Hometown: Little Rock, Miss.
Residence: Roswell, Ga.
Turned pro: 2020
Years at Georgia Tech: 2016-20
Status: none
Did not play
Points ranking (GPro): T-6
YTD earnings (GPro): $15,000
CHRIS PETEFISH
Hometown: Danville, Calif.
Turned pro: 2018
Years at Georgia Tech: 2014-18
Status: MacKenzie Tour/Forme Tour
Korn Ferry Tour
Huntsville Championship
T-60
65-74-76-68–283 (+3)
KFT points ranking: 183
YTD earnings: $3,038
Career earnings: $8,239
Points ranking (FET): T-16
YTD earnings (FET): $3,052
Career earnings (PGA Tour Canada): $21,118
MICHAEL PISCIOTTA
Hometown: Alpharetta, Ga.
Turned pro: 2018
Years at Georgia Tech: 2014-18
Status: Developmental tours
Did not play
Points ranking: n/a
YTD earnings: n/a
SETH REEVES
Hometown: Duluth, Ga.
Turned pro: 2014
Years at Georgia Tech: 2010-14
Status: PGA Tour
PGA Tour
Mexico Open
missed cut
76-73–149 (+7)
FedEx Cup points ranking: 174
YTD earnings: $284,438
Career earnings (PGAT): $594,026
Career earnings (KFT): $590,838
LUKE SCHNIEDERJANS
Hometown: Powder Springs, Ga.
Residence: Alpharetta, Ga.
Turned pro: 2020
Years at Georgia Tech: 2016-20
Status: MacKenzie Tour/Forme Tour
Did not play
Points ranking (FET): T-81
YTD earnings (FET): $1,580
OLLIE SCHNIEDERJANS
Hometown: Powder Springs, Ga.
Turned pro: 2015
Years at Georgia Tech: 2011-15
Status: Korn Ferry Tour
Did not play
KFT Points ranking: 152
YTD earnings: $3,060
Career earnings (KFT): $530,524
Career earnings (PGAT): $3,879,653
TYLER STRAFACI
Hometown: Davie, Fla.
Residence: Davie, Fla.
Turned pro: 2020
Years at Georgia Tech: 2016-20
Status: none
Did not play
Points ranking: n/a
YTD earnings: $0
Career earnings (PGA Tour): $21,111
Career earnings (KFT): n/a
NICHOLAS THOMPSON
Hometown: Coral Springs, Fla.
Turned pro: 2005
Years at Georgia Tech: 2001-05
Status: Korn Ferry Tour
Did not play
KFT points ranking: n/a
YTD earnings: $0
Career earnings (KFT): $919,414
Career earnings (PGAT): $5,729,551
CAMERON TRINGALE
Hometown: Laguna Niguel, Calif.
Turned pro: 2009
Years at Georgia Tech: 2005-09
Status: PGA Tour
PGA Tour
Mexico Open
T-33
70-68-70-69–277 (-7)
FedEx Cup points ranking: 24
YTD earnings: $2,405,265
Career earnings (PGAT): $16,664,749
RICHY WERENSKI
Hometown: South Hadley, Mass.
Turned pro: 2014
Years at Georgia Tech: 2011-14
Status: PGA Tour
PGA Tour
Mexico Open
missed cut
71-76–147 (+5)
FedEx Cup points ranking: 197
YTD earnings: $169,239
Career earnings (PGAT): $5,895,740
VINCENT WHALEY
Hometown: McKinney, Texas
Residence: Fayetteville, Ga.
Turned pro: 2017
Years at Georgia Tech: 2013-17
Status: PGA Tour
PGA Tour
Mexico Open
missed cut
75-73–148 (+6)
FedEx Cup points ranking: 116
YTD earnings: $608,698
Career earnings (PGAT): $1,508,561
Career earnings (KFT): $167,469