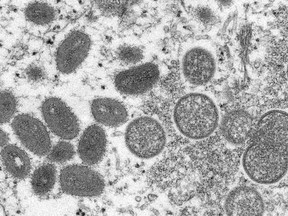 Article content
After years of COVID-19 headlines, monkeypox is now in the news.
Article content
As of June 3, Canada has confirmed 77 cases of the disease that's been popping up around the world, with one case found in Alberta last week. According to chief medical officer of health Dr. Deena Hinshaw, the person diagnosed with monkeypox had close contact with a known case outside the province.
David Evans, a microbiology and immunology professor at the University of Alberta, and Timothy Caulfield, a professor in the U of A's Faculty of Law and School of Public Health, spoke to Postmedia about what Albertans need to know now.
First monkeypox case confirmed in Alberta: Hinshaw

Monkeypox in Canada: What you need to know about the rare virus
What causes monkeypox?
Like COVID-19, monkeypox is caused by a virus, but a different kind: COVID is caused by a coronavirus made of RNA, while monkeypox comes from what's known as a poxvirus, made of DNA.
Article content
Monkeypox is specifically caused by an orthopoxvirus, a subfamily within that grouping that also includes the smallpox virus.
What do we know about the virus?
Monkeypox was first identified in a lab nearly 70 years ago, and unlike the virus that causes COVID, it isn't new.
It's endemic in several countries in west and central Africa, and health authorities there have experience tracking and treating it. But as what's called a neglected tropical disease, monkeypox has gotten little global attention until the recent cases in non-endemic countries in Europe, as well as U.S. and Canada.
Evans, who specifically studies orthopoxviruses, explained that the monkeypox virus is sometimes used as a stand-in for research on smallpox.
"If we want to test a vaccine that we think will work against smallpox, you check whether it'll protect against monkeypox, for example."
While there are still questions around the current disease spread, Evans said he sees "nothing unusual" about this strain of the monkeypox virus.
"It's not mutating into a new, deadlier strain."
Article content
How do you catch monkeypox?
Hinshaw emphasized last week that monkeypox "does not spread easily between people." Close, direct contact with an infected person who has symptoms is the main way the disease spreads. There's risk, too, from contact with items that have been contaminated, like a sick person's bedsheets or the cutlery they used to eat a meal.
There's also the potential for monkeypox to spread in respiratory droplets during "prolonged" contact between people.
A disproportionate number of cases in current outbreaks have been identified in men who have sex with men. But Caulfield stressed that anyone can get monkeypox, and the spread isn't limited to sexual activity.
"The disease is primarily spread through close contact, so if you are within a particular community where you might have more close contact, you're going to see a spike in those communities," he said.
Article content
"In the early days when this started, I was on social media talking about this very thing … and I got people pushing back saying, 'No, that's not true. This is a disease with the gay community.'
That really demonstrates how important it is to make sure that information is accurate, that narratives aren't alarming or stigmatizing."
What happens if you catch monkeypox?
Symptoms can start out flu-like, with a fever, aches and swollen lymph nodes. After a few days, a rash appears that may spread — although in some recent cases, doctors have seen a more subtle rash with just a few sores in one area of the body.
In Alberta, if you think you've been in close contact with someone with monkeypox, or are having symptoms of the disease, you should self-isolate and call 811 or tell your doctor. The infection typically resolves after a few weeks, but the rash can be very painful and cause scarring.
Article content
While people should get checked if they think they have a reason to worry, the risk in this province is low.
"That's not to say that, in the aggregate and from the perspective of global health, this isn't a serious issue and something that deserves intense scrutiny," Caulfield said.
"But on that individual risk level right now, I don't think the average Albertan needs to be too concerned."
With one case confirmed in Alberta, what now?
Canada's deputy chief public health officer Howard Njoo has said that the entire Canadian population is likely susceptible to monkeypox because routine vaccination against smallpox stopped in 1972.
But that doesn't mean we're in for a new monkeypox pandemic. It's much less infectious than COVID, especially when compared to the Omicron variant.
Article content
According to the Public Health Agency of Canada (PHAC), the country has a small stockpile of three types of smallpox vaccine that can also work against monkeypox, including a newer vaccine that has far fewer side effects than the shots people would have had before routine immunization stopped.
In Quebec, where there are currently more than 70 confirmed cases of monkeypox, the province is giving access to the vaccine to high-risk contacts of a confirmed or probable monkeypox case. PHAC has said they're watching the situation closely, but a mass vaccination campaign isn't necessary at the moment.
Evans said past history of monkeypox outbreaks have historically been small and limited, and there's more work ahead to find out what's happening this time
"I think that it's more the epidemiology of how it got into a particular population and then got spread. That is the difference in this particular case."
— With files from The Canadian Press