A number of new movies and limited television series will debut this week, including the following titles opening in theaters or premiering via video on demand on various streaming platforms:
'Jurassic World Dominion'
Genre: Science fiction and action
Cast: Chris Pratt, Bryce Dallas Howard, Laura Dern, Jeff Goldblum, Sam Neill, DeWanda Wise, Mamoudou Athie, BD Wong, and Omar Sy
Director: Colin Trevorrow
Rated: PG-13
"Jurassic World Dominion" takes place four years after Isla Nublar has been destroyed.
Dinosaurs now live — and hunt — alongside humans all over the world. This fragile balance will reshape the future and determine, once and for all, whether human beings are to remain the apex predators on a planet they now share with history's most fearsome creatures.
The film was released theatrically by Universal Pictures on June 10.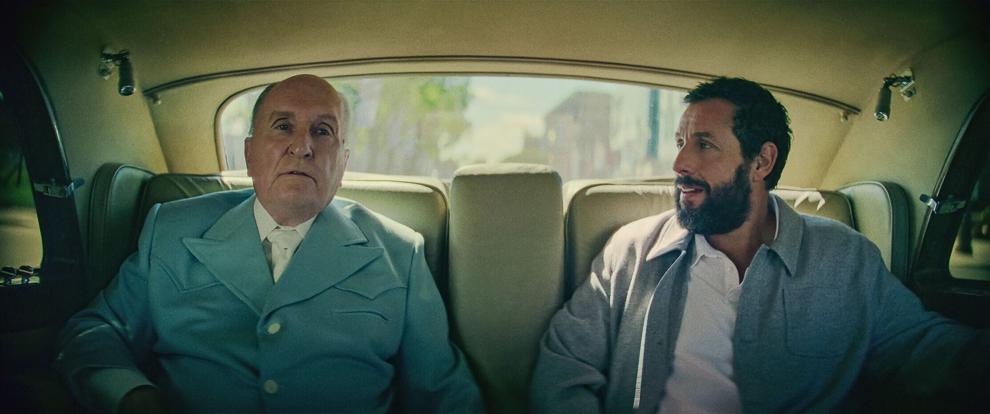 'Hustle'
Genre: Sports drama
Cast: Adam Sandler, Queen Latifah, Ben Foster, Juancho Hernangómez, and Robert Duvall
Director: Jeremiah Zagar
Rated: R
After discovering a once-in-a-lifetime player with a rocky past abroad, a down on his luck basketball scout (Adam Sandler) takes it upon himself to bring the phenom to the States without his team's approval. Against the odds, they have one final shot to prove they have what it takes to make it in the NBA.
The film was released on Netflix on June 8.
'I'm Charlie Walker'
Genre: Drama
Cast: Emma Caulfield Ford, Monica Barbaro, Dylan Baker, Mike Colter, Greg Cipes, Boots Riley, Carl Lumbly, and Mark Leslie Ford
Director: Patrick Gilles
Not rated
Mike Colter stars as Charlie Walker, an earnest entrepreneur working in the construction and trucking industries in 1971 San Francisco.
When two oil tankers collide off of the coast, unleashing millions of gallons of oil and spawning an immense environmental disaster, Charlie gets right to work. First, he lands a lucrative contract to clean the coastline. Then, with only three trucks, Charlie puts his heart and his hands into trying to save the coastline, all while grappling with pervasive racism from the company that hired him.
'Ms. Marvel'
Genre: Superhero miniseries
Cast: Iman Vellani, Matt Lintz, Yasmeen Fletcher, Zenobia Shroff, Mohan Kapur, Saagar Shaikh, Rish Shah, Laurel Marsden, Adaku Ononogbo, Alysia Reiner, Laith Nakli, Travina Springer, and Aramis Knight
Rated: TV-PG
Marvel Studios' "Ms. Marvel" is a new, original series that introduces Kamala Khan (Iman Vellani), a Muslim American teenager growing up in Jersey City.
An avid gamer and a voracious fan-fiction scribe, Kamala is a superhero mega-fan with an oversized imagination — particularly when it comes to Captain Marvel. Yet Kamala feels like she doesn't fit in at school and sometimes even at home — that is, until she gets superpowers like the heroes she's always looked up to. Life gets better with superpowers, right?
'Eraser: Reborn'
Genre: Action
Cast: Dominic Sherwood, Jacky Lai, McKinley Belcher III and Eddie Ramos
Director: John Pogue
Rated: R
U.S. Marshal Mason Pollard (Dominic Sherwood) specializes in "erasing" people — faking the deaths of high-risk witnesses.
With the technological advances of the last 25 years, the game has upgraded, and it's just another day at the office when he's assigned to Rina Kimura (Jacky Lai), a crime boss' wife who's decided to turn state's evidence. As the two flee to Cape Town, South Africa, with a team of merciless assassins on their trail, Pollard discovers he's been set up. Double-crossed and fueled by adrenaline, he needs to be at the top of his game, or he'll be the one who's erased — permanently.
The film was released directly to home media on June 7 by Warner Bros. Home Entertainment.