"Stephanie Foster is the acting head of the Department of Prime Minister and Cabinet, as of yesterday," Mr Albanese told reporters on Monday morning ahead of leaving for Tokyo for a Quad meeting.
"I will be making an announcement at an appropriate time after we go through the formal procedures, which are in place, for the appointment of a secretary of Department of Prime Minister and Cabinet."
The secretary of PM&C is also the head of the public service. The appointment is formally made after a report from the Public Service Commissioner, former diplomat Peter Woolcott, to the Prime Minister.
Various candidates are being considered, including several who left or were terminated in the early days of the former government. These include Infrastructure secretary and now local NEC chief executive Mike Mrdak, former Social Services secretary Finn Pratt and previous Industry secretary Heather Smith.
Treasury secretary Stephen Kennedy is considered the front-runner from the current secretaries. Mr Kennedy is a previous PM&C deputy and worked as an economic adviser for three prime ministers: Kevin Rudd, Julia Gillard and Scott Morrison.
NSW Premier's secretary Michael Coutts-Trotter is also being discussed. Mr Coutts-Trotter is the partner of Labor MP Tanya Plibersek and is widely respected for his work involving large social service programs and taking a more data-led approach.
Public service praise
In his first press conference as prime minister, Mr Albanese took time to pay tribute to the public service and indicated he would not be looking for wide-scale sacking of secretaries appointed by the previous government.
"I met with the Department of Prime Minister and Cabinet yesterday and I thank them for their professionalism," he said.
"It was a reminder, as a former deputy prime minister and minister, of how valued our public servants are.
"We won't be sacking public servants either, we will be valuing public servants and respecting them.
"The fact that we are able to have discussions and put measures in place to allow whatever the outcome of the result on Saturday for those arrangements to be put in place says a lot about how professional our public service are.
"We should not take it for granted."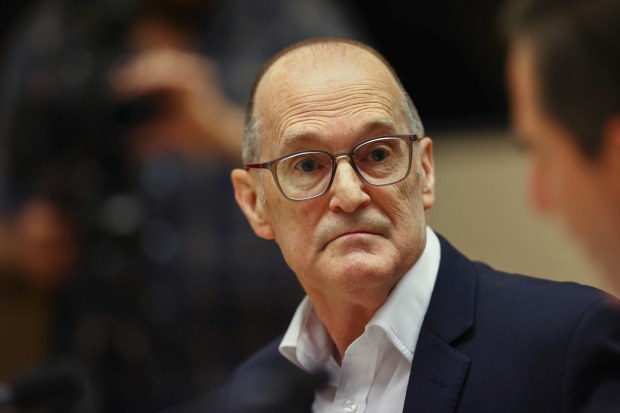 The new machinery of government arrangements that determine the structure of the portfolios and the associated administrative orders will be developed by the prime minister's department over the next week, ahead of the announcement of the full ministry next week.
"We will then have a swearing in of the full ministry next Wednesday morning, and then I will convene the first meeting of the new ministry," Mr Albanese said.
"We will have a meeting of the ministry next Wednesday, along with meetings of the appropriate cabinet committees, including the NSC [National Security Committee] and the ERC [Expenditure Review Committee]."
Mr Gaetjens had previously indicated to colleagues he was preparing to retire no matter which party won government.
Mr Albanese's comments about "politicisation" of the PM&C secretary's role referred to Mr Gaetjens' role in reviewing what the prime minister's office knew about rape allegations made by former ministerial staffer Brittany Higgins. New Foreign Affairs Minister Penny Wong claimed at the time that Mr Gaetjens had been part of a "cover-up".
The controversy followed Mr Gaetjens' controversial role in the review of the so-called "sports rorts affair".
According to then-prime minister Scott Morrison, Mr Gaetjens found "no basis for the suggestion that political considerations were the primary determining factor" for the grant allocations by then-sport minister Bridget McKenzie ahead of a closely fought national election.
Mr Gaetjens served in the ministerial offices of Mr Costello and Mr Morrison and is a career public servant. He has a formidable CV of senior roles in both federal and multiple state governments. He was previously secretary for the federal Treasury and of the NSW Treasury department.