Early in his third season in the NBA, Dixon native Isaiah Roby was playing limited minutes for the Oklahoma City Thunder and searching for a way to get more playing time.
By the end of the 2021-22 season, he had become a fixture in the starting lineup and was relied upon as a veteran on a very young team.
Not only that, he was playing the best basketball of his young career. He set career highs in 12 different stat categories on or after Feb. 16, and started 23 of the Thunder's final 28 games, including the last 12 of the season.
He finished the season averaging 21.1 minutes, 10.1 points, 4.8 rebounds, 1.6 assists, 0.8 steals and 0.8 blocks in 45 games played. He shot 51.4% (166-for-323) from the field, 44.4% (44-for-99) from 3-point range, and 67.2% (78-for-116) from the free-throw line.
All that after spending some time in the G League and missing more than a month with a sprained right ankle in the first half of the season.
But once he started OKC's Feb. 11 game against the 76ers, Roby became a player the Thunder relied upon the rest of the way.
"We had a lot of guys go down with injuries, and my role had changed," Roby said. "It's a long season, and with the young team we had, everybody's role was changing throughout the year. Aside from our top three or four guys, everybody else had a fluid role – and at the end, I was able to finish strong."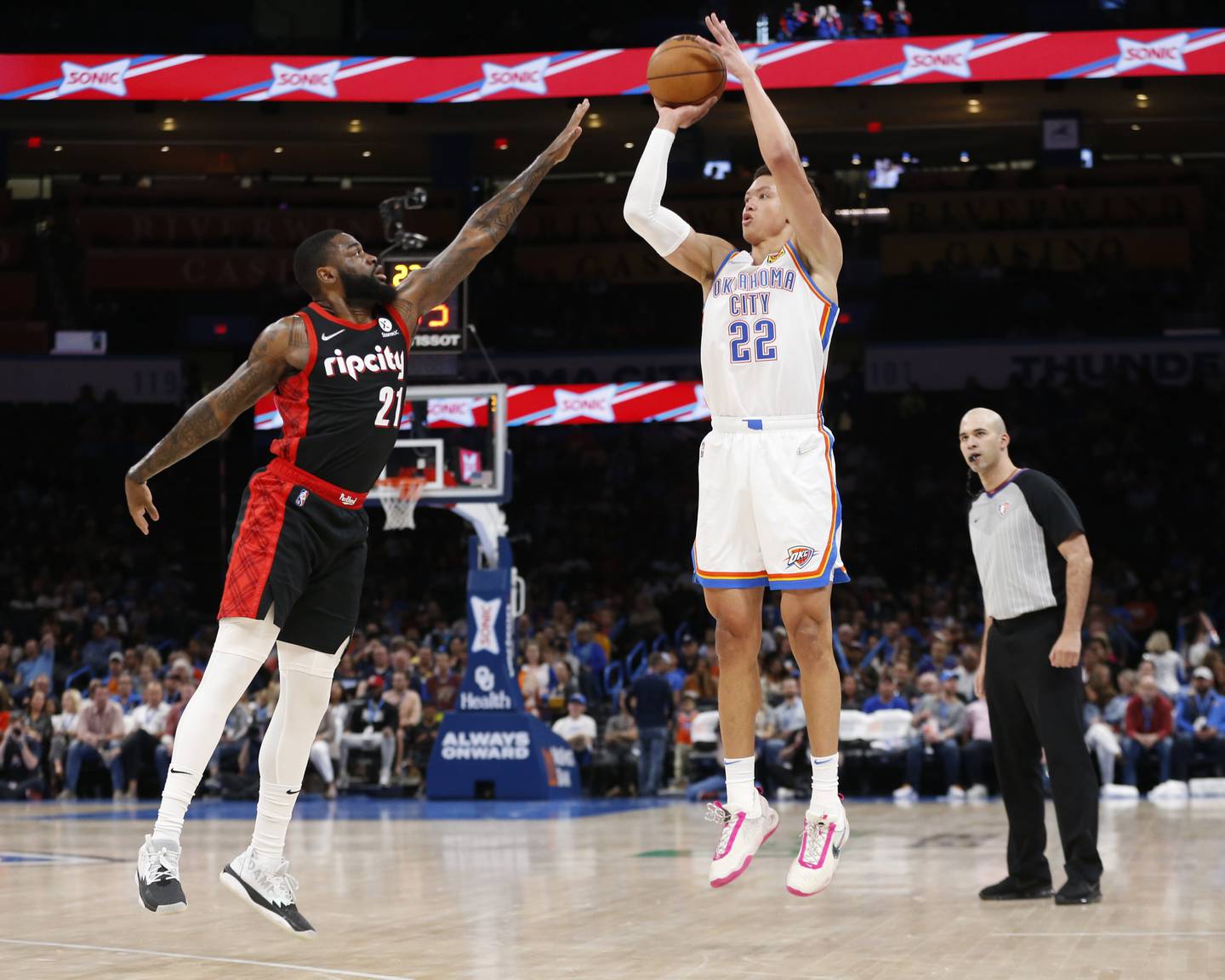 The strongest games came against the Trail Blazers on March 28 and April 5.
In that first meeting, Roby set a career high with 30 points and 11 field goals, and tied his career mark with four 3-pointers. He also had eight rebounds, four assists, two steals and two blocks in a career-high 38 minutes – but it was his clutch shot-making down the stretch that proved pivotal in a 134-131 overtime victory.
He hit the game-tying 3-pointer with 6.2 seconds left in regulation, and that was after he cut OKC's deficit to 113-112 with a pair of free throws four seconds earlier. Then in the extra period, he hit a dunk and a layup in a 13-second span in the final minute to give the Thunder a four-point lead both times.
"That game was just the perfect storm," said Roby, who shot 11-for-13 from the field and 4-for-5 from deep. "I came out hot, and I was just trying to be aggressive, and I got hot again at the end. It was one of those games at the point in the season where we had a lot of guys out, and I knew I had to lead the team.
"I had played against my matchup a few times, and I knew what to expect, and with that expectation comes good experience. I knew how Portland played, and I felt comfortable and confident with the ball in my hands."
The next time Roby faced the Blazers, he also contributed in every facet of the game in the Thunder's 98-94 victory. He set a new career high by playing 43 of the 48 minutes, and finished with 18 points, six rebounds, three assists, a steal and a career-high six blocked shots.
"I think my versatility and experience with this team is a big bonus of my style of play," Roby said. "Me being able to play the center position and pop out to the perimeter and shoot the 3 is key, because it brings the other team's center to the perimeter and takes away the rim protector to open up the floor for my teammates.
"But my biggest role is bringing the energy on defense and on the boards on both ends, and then there were a few games at the end of the year where I was shooting the ball really well. I have a good idea how I can help NBA teams, and I feel like I can be a good role player in this league. Those guys have to be willing to dive into the crowd or get on the floor for a loose ball, just go out and play your hardest all the time, and I feel like I can definitely do that."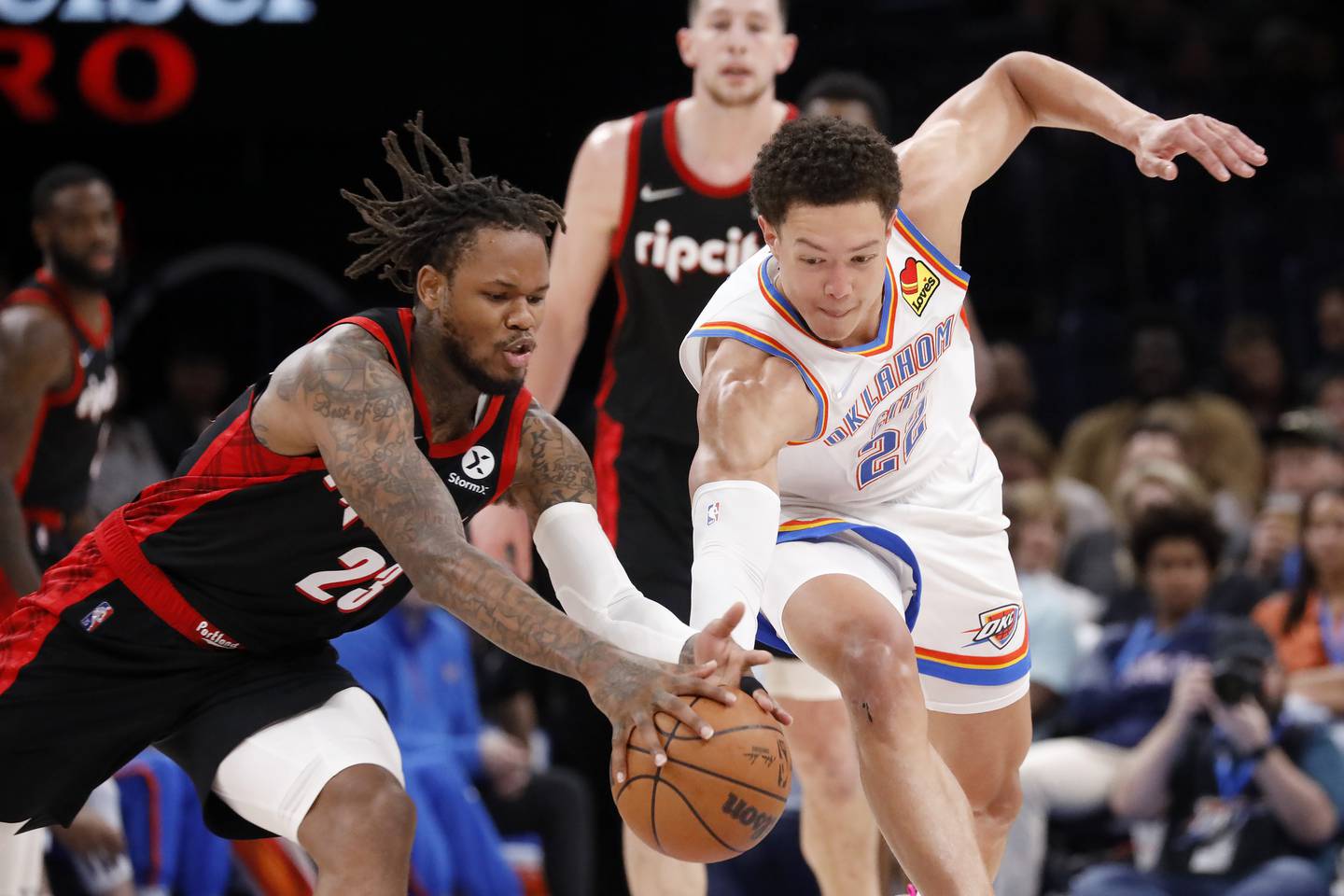 Roby scored in double-figures and had multiple rebounds in each of the final 10 games of the season, and dished multiple assists in nine of them while averaging 29.6 minutes per game; he played 30 or more minutes seven times in that final 10-game stretch.
Oklahoma City finished 24-58 and missed the playoffs, but Roby is ready to use his strong finish as a springboard into the offseason, then carry it over into next year. After taking a trip to Cancun to relax a bit, he has returned refreshed and ready to get going with his offseason regimen.
"I'm excited and ready to get back to it," Roby said. "They always tell you to take some weeks off at the end of every season, so I did that – but I want to start working again. I think both personally and as a team, we have a lot of big opportunities ahead of us, and I want to show up at training camp in the best shape I can be, ready to attack another year with this team."
Like all young players in the NBA, Roby has stayed near the team facilities and worked out with team personnel in his first three offseasons. But this summer, he's going to get back into a routine closer to his college days, and he's excited to have earned the trust of his coaching staff to take his training into his own hands.
"This is the first offseason where the team is allowing me to do my own thing, and not making me stay here in OKC," he said. "I'm excited, because it's kind of what I'm used to doing. When I was at Nebraska, we'd be on campus for six or seven weeks, but otherwise I was back home and driving to the Quad Cities, Chicago, Rockford, trying to find places where I could work out. I've built a pretty good circle and network of coaches and trainers over the years, and I'm definitely excited to be more consistent in my workouts.
"The offseason is where guys can take a big leap, and I feel like I have a good routine where I can work on my game, stay in shape and get ready for next season. At this point I'm pretty confident in what I need to work on and improve – being more efficient, improving my ball security, and continuing to shoot well – and I'm excited for what I can bring to the team next year."
It's also the first offseason where Roby won't be asked to bulk up. Always tall and stringy, he feels he's finally reached "a pretty healthy weight to hold my own and still be athletic," and the 6-foot-8, 230-pounder is looking forward to training at his current weight.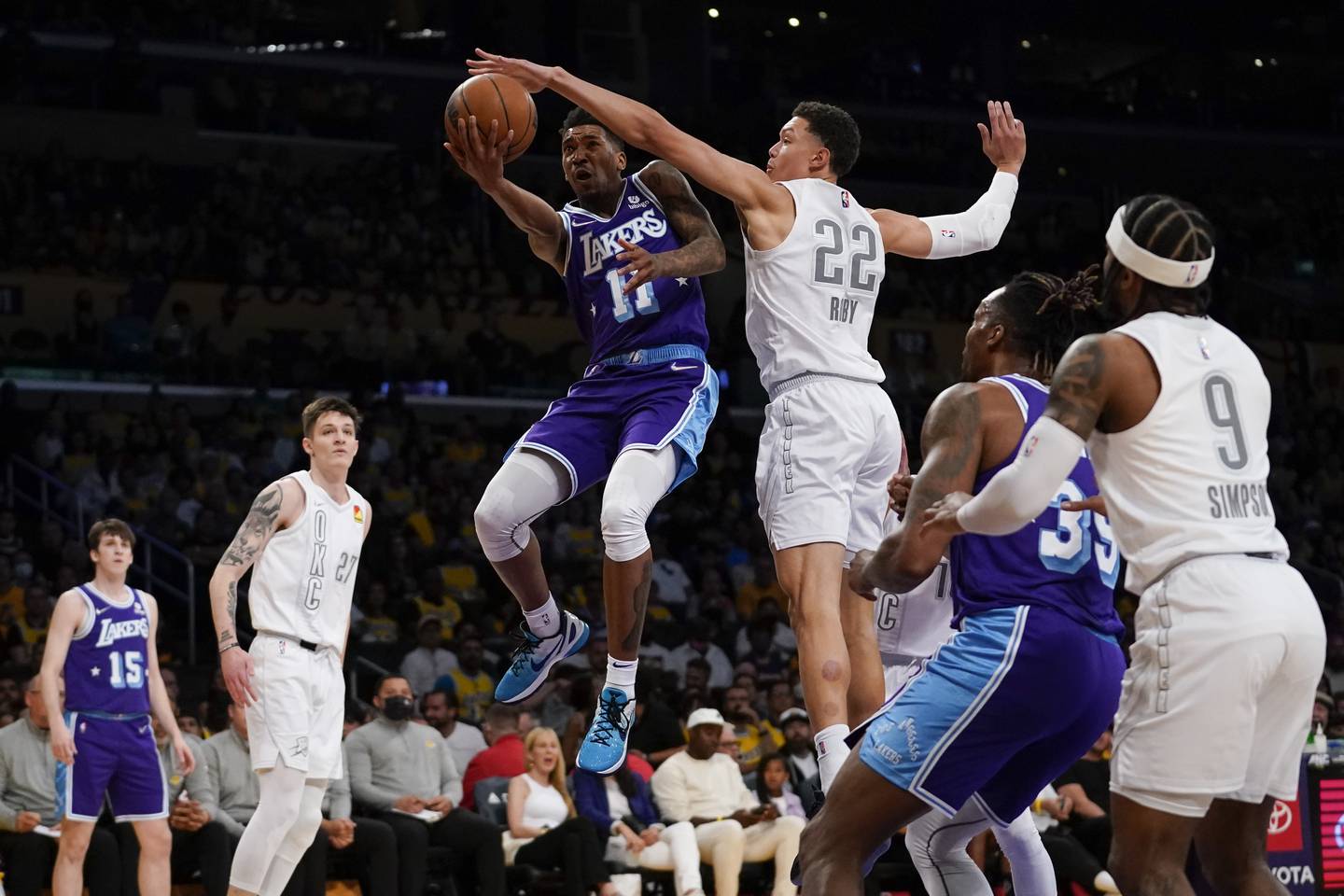 He's also trying to wrap his head around the fact that he's become a veteran in the NBA without even realizing it. After dreaming about the NBA his entire life, and seriously thinking about a pro career since his college days with the Cornhuskers, he can hardly believe that he'll be entering his fourth season in the league next fall.
"It's really weird, just surreal to think about it," he said. "During my sophomore year in college, I remember first looking at what it takes to get to the NBA and stay there, and I saw that the average NBA career is four years – and I'm there. It's crazy to think about.
"It's hard to get into the NBA, and even harder to stay; every year, you've got 60 new guys coming in who want your job, and it's tough competition. I know I've earned a great opportunity here, and OKC has provided me with invaluable experience. It's definitely a blessing."
Roby credits the franchise for building a young, talented team, and also with the support and commitment to those players to get the Thunder where they want to be in the future.
"This is much more of a journey-oriented process right now than worrying about expectations of number of wins or deep playoff runs," Roby said. "The team believes in the guys we have, and it's a great group that really works hard. Who knows what will happen down the road, but we believe it will all come together."
And despite the fact that he's only 24 years old, Roby is looked to by the Thunder coaching staff as a veteran leader for his younger teammates; it's something head coach Mark Daigneault stressed to the 2016 Dixon High School grad during the final month of the season.
"At the end of the season, we were playing a seven-man rotation, and Coach Mark said he was putting a lot of the leadership on me," Roby said. "He told me that I had more game experience than the rest of the guys out there, and even though we're all around the same age, they turned to me as the veteran leader out there.
"There's only three or four guys on the team who are older than me, and even though I'm only 24, I feel like the old man sometimes," he added with a laugh.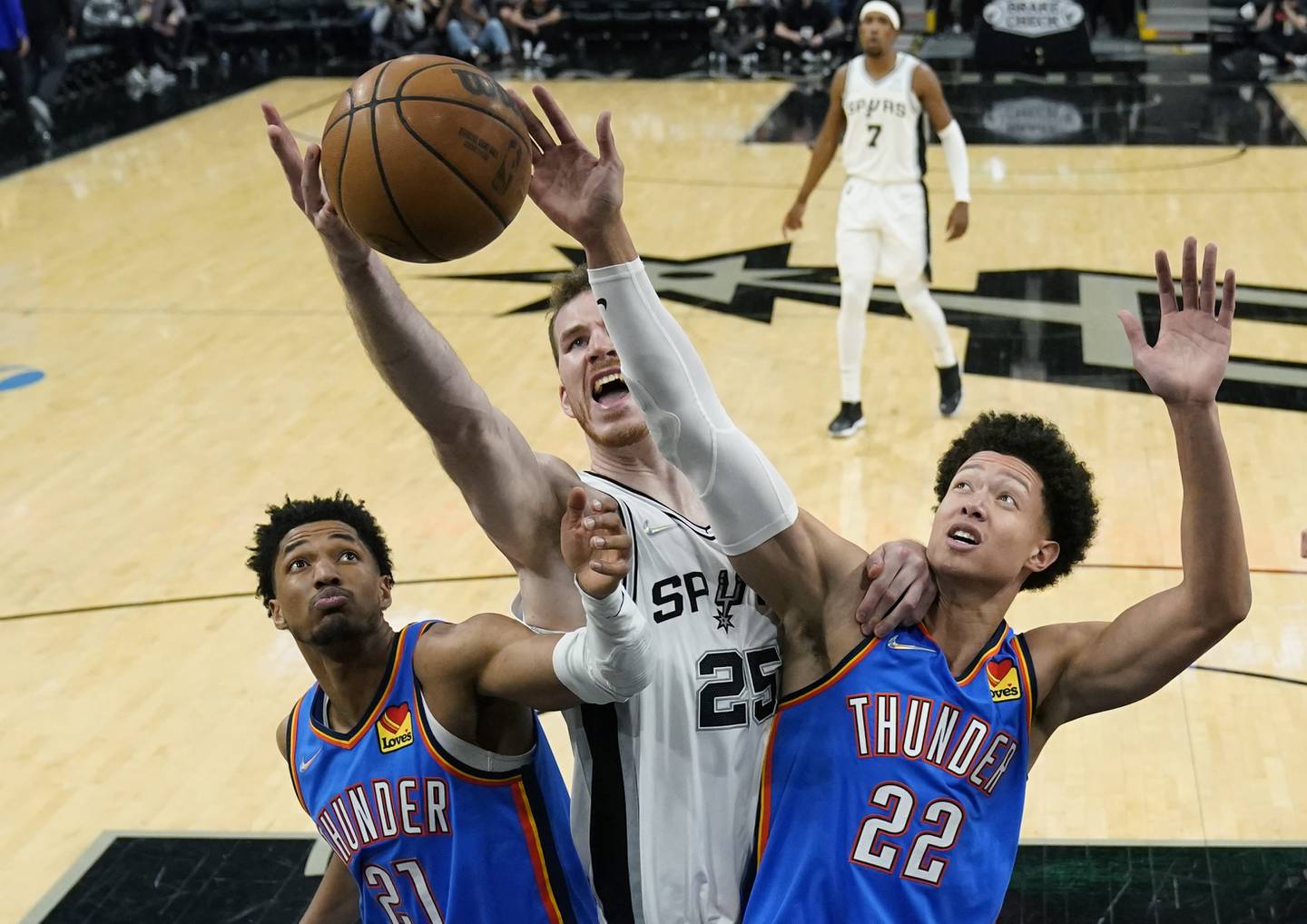 So what's the biggest lesson the wily NBA veteran has learned in his time in the league?
"The difference between high school and college and the pros is huge," he said. "At some point in high school, basketball became easy, and after a couple years in college, I knew I'd be one of the best players on the court. But every night as a pro, guys are coming at you hard, playing hard, and there's somebody watching you in college or overseas thinking they want to be where you are.
"The big thing you realize is you gotta have urgency, and play with that mindset at all times. Playing hard consistently is something that's hard to do every night when you play 82 games in a season and play several times a week, and that's the No. 1 thing I'll work on this entire offseason and into next year is having that urgency every day, every game, every time I step on the court."