NASHVILLE – It was Jerry Glanville who famously told an official that NFL stands for "not for long."
Few things in the league create the sort of sudden change that the NFL Draft does. Rosters get an influx of talent, including some high-profile, instant-impact contributors.
The Tennessee Titans' 2022 draft class consists of nine players led by first-round pick Treylon Burks, a wide receiver out of Arkansas, and Liberty quarterback Malik Willis, the second of two third-round selections.
That group instantly changed the status of several veterans on the roster. Some who might have thought they were starters now will have to fight for playing time. For some, their futures with the franchise no longer are in focus. And some might have a lot more competition just to earn a spot on the roster.
"I like the way that they play," general manager Jon Robinson said about this year's draft class. "They all play with a tough, physical style of play. … They all work hard. They're all tough. … All of them play with a tough play style, and they were all good — really good – in the interviews. They came across as team-first guys, guys willing to buy into their role and compete to help the football team."
Here is a look at five veterans and how their current situations are different than they were a week ago because of selections the team made in the 2022 NFL Draft.
Dillon Radunz, Tackle
There was a chance that coaches would have been forced to take a leap of faith with their 2021 second-round pick and plug him in as their starting right tackle. That changed early in the third round when the Titans selected Ohio State's Nicholas Petit-Frere with the 69th overall selection. Petit-Frere (6-foot-5, 315 pounds) is far from a sure thing. Critics are quick to point to technical flaws that need to be ironed out. But – unlike Radunz – he faced top-flight competition throughout his college career, which should make his transition to the NFL much smoother.
Radunz practiced plenty at guard last season, and if he loses the right tackle spot to Petit-Frere, he would be a candidate to replace Rodger Saffold at left guard. However, there has been no indication that he excels at that spot either. Based on his draft position, Radunz is likely to be a starter at some point. If it is 
Ryan Tannehill, Quarterback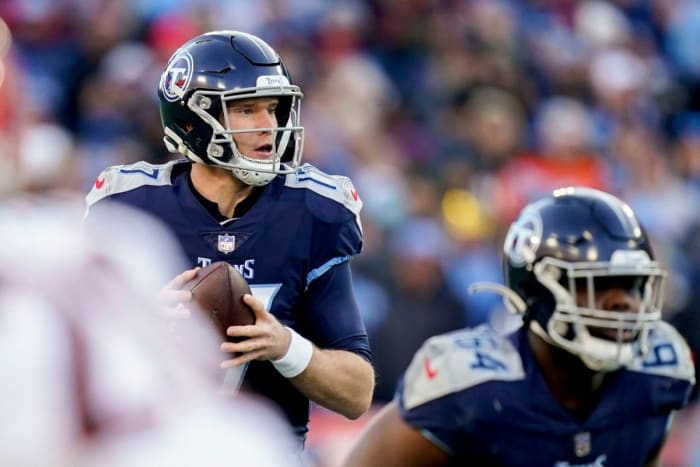 Since Marcus Mariota's departure following the 2019 season, Tannehill has been as comfortable as any starting quarterback in the league. Coaches like Logan Woodside as his backup, but there has been nothing to suggest that Woodside should be on the field under any circumstance other than a Tannehill injury. And that has not happened over the last two-plus seasons. Tannehill enters this season with the league's fourth-longest active streak of consecutive starts by a quarterback (43).
The selection of Willis at No. 86 drastically altered the narrative. Suddenly, it makes sense to wonder how long Tannehill will remain in his current role. The most common expectation is that it will be for one season, after which the Titans can create some serious salary-cap relief by releasing him. Yet the calls for Willis will be raised this season if Tannehill struggles, such as the seven-game stretch in 2021 when he threw seven touchdown passes and seven interceptions.
Nick Westbrook-Ikhine, Wide Receiver
Versatility has been Westbrook-Ikhine's hallmark during his two seasons in the NFL. Coaches often talk about the fact that they are comfortable with him at any of the three wide receiver spots. That – and good health – allowed him to log more offensive snaps in 2021 than any of the team's other wide receivers, including A.J. Brown, even though he started fewer than half the games.
Even with Brown out of the picture via a trade to Philadelphia during the first round, it is not clear that Westbrook-Ikhine will be anything more than a role player in 2022. First, there is veteran Robert Woods, acquired in a trade with Los Angeles, who can play all the positions as well and has a history of producing big numbers. Tennessee took one wide receiver, Burks, in the first round and another, Kyle Philips, in the fifth. Burks almost certainly will fill Brown's role, and Philips will have the opportunity to become the pure slot receiver coaches have sought for years. Plus, last year's draft also brought two draft picks in fourth-round choice Dez Fitzpatrick and sixth-round selection Racey McMath. Coaches always will give draft choices the benefit of a doubt – if possible – over undrafted players, even ones as useful as Westbrook-Ikhine. 
Jordan Wilkins, Running Back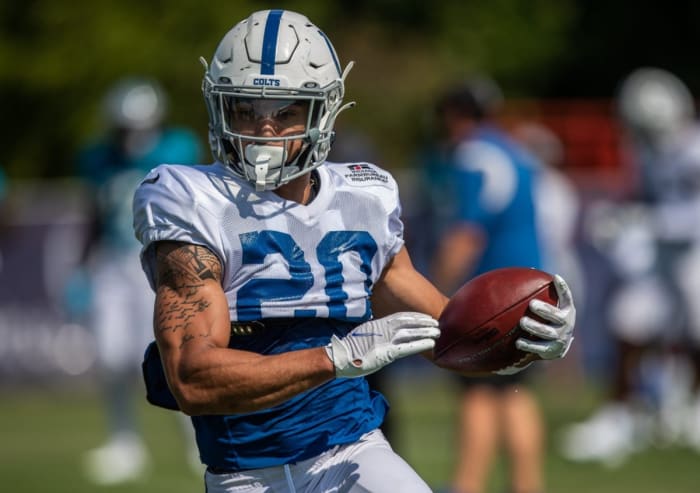 The role of Derrick Henry's understudy never has been a significant one. After the foot injury (and subsequent surgery) that sidelined the two-time rushing champion for more than half of last season, though, it figures there will be more carries to go around in 2022. Even if Henry stays healthy from start to finish, coaches will look for ways to ensure he stays fresh and upright as much as possible.
Wilkins, a veteran who spent three-plus seasons with Indianapolis, figured to get first crack at the job after D'Onta Foreman's free-agent departure. Then the Titans drafted Michigan's Hassan Haskins in the fourth round (131st overall). Haskins described his running style as "angry," and he has the special teams acumen that almost certainly will get him a spot on the gameday roster – and the time at running back when Henry is given (or needs) a break. With Dontrell Hilliard locked in as the third-down/change-of-pace back, Wilkins will have to find a way to earn a spot on the 53-man roster for the start of training camp.
Buster Skrine, Cornerback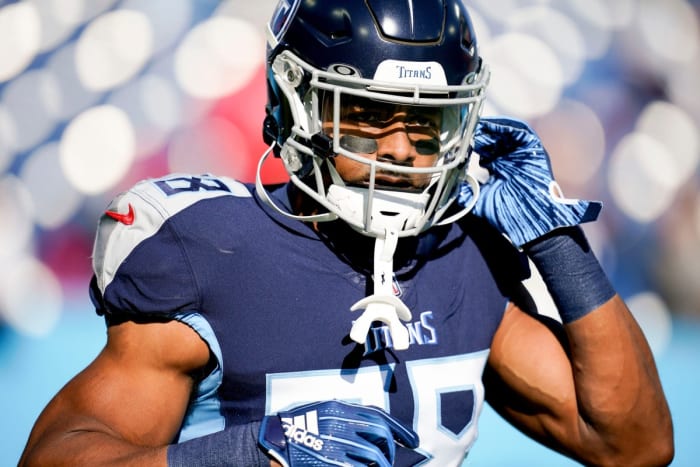 Among the players the Titans plucked off the street during the record-setting roster wrangling last season, Skrine was among the most important. Over the final six weeks of the regular season, he started three games when Jackrabbit Jenkins was injured, and helped keep the secondary competitive. When everyone was healthy, he was a useful piece who could play inside or out. All the while, coach Mike Vrabel raved about his work ethic.
Skrine was re-signed for what will be his 12th NFL season, and the thinking was that with a full offseason to work within the scheme, he could become an even more important part of the defense. With second-round pick Roger McCreary, Tennessee now has four cornerbacks taken within the first three rounds of the last three drafts (McCreary, Caleb Farley and Elijah Molden in 2021 and Kristian Fulton in 2020). The temptation will be to continue to let those guys grow and develop together, provided McCreary is a quick study and they all stay healthy. Skrine's roster spot probably is secure for now, but he might end up being more of a mentor throughout the week than a man-to-man defender on Sunday.